(Last Updated On: September 21, 2016)
Steps to Implement GST in Business
There are several steps that businesses may consider for GST readiness and they include:
Map the current business transactions and over lay the GST footprint to assess impact of new law
Take impact mitigation measures by restructuring transaction flows and / or supply chain
Redesign the processes in line with the above
Assess IT readiness requirements and take necessary steps to bring in functional modifications
Assess and implement registration and compliance requirements and
Assess steps to be taken to ensure smooth transition including stakeholder communication and documentation requirements
STAGES OF GST IMPLEMENTION
Businessmen needs to identity Steps to Implement GST in Business. For Example
2.Businessmen needs to design Flow Chart to Implement GST in Business. For Example
For Example  :-GST Refund For Tourist In Malaysia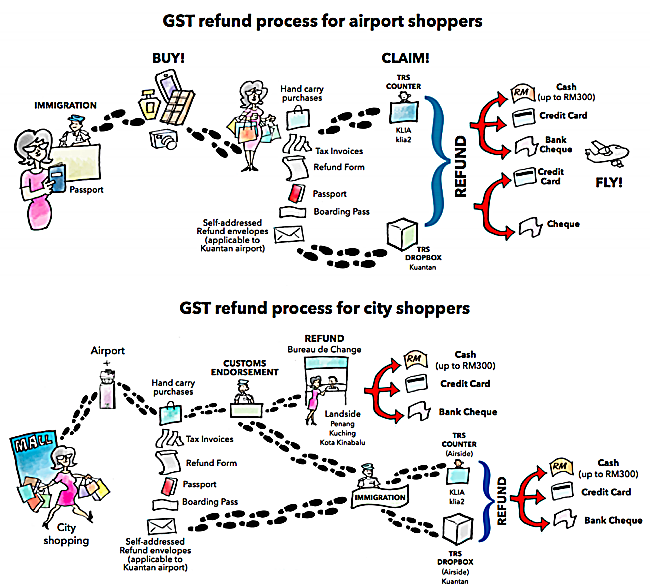 3. Companies needs to Sequence the activies to  Implement GST in Business
4. Businessmen needs to decide Inputs on which GST will be avialable and  output on which it needs to pay GST to  Implement GST in Business . He also needs to decide Time of Supply, Threshold, Exemptions etc.
5. Businessmen needs to decide whether supply is at standard Rate, Zero Rate or Exempted Supply to  Implement GST in Business
 6. Businessmen needs to decide who are there supplier, and Consumers to  Implement GST in Business
7. Businessmen needs to have GST  Audit done after Implementing GST in Business
GST Implementation Challanges
All About GST – A Complete Guide to Model GST Law (3rd Edition, August 2016)