(Last Updated On: January 27, 2017)
Tally ERP 9 book
Mastering Tally ERP 9 (English) 2nd revised and updated edition Edition  (Nadhani A K)
Tally ERP 9 book explains extensive features of Tally.ERP 9.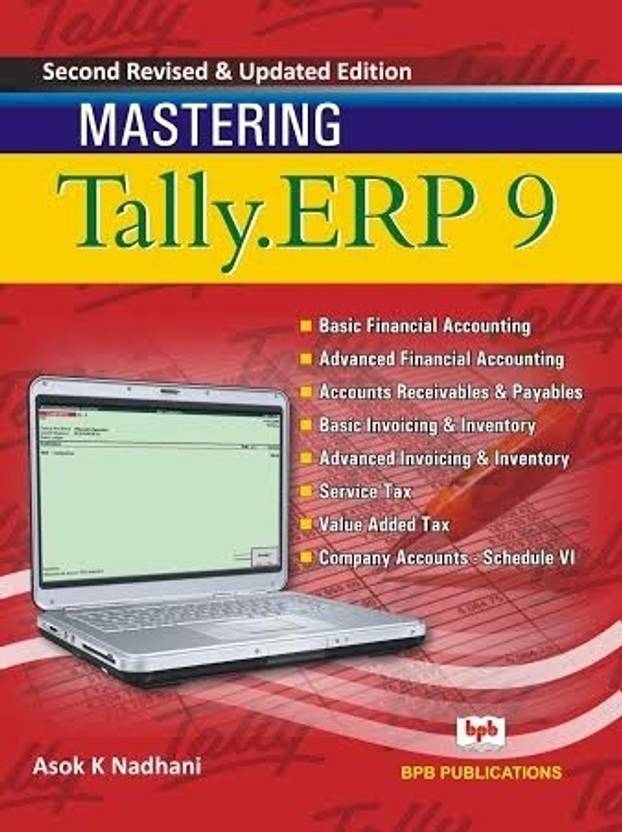 Link to BUY
Features of Mastering Tally. ERP 9
Language: English
Publisher: BPB PUBLICATIONS-NEW DELHI
ISBN: 9788183334754, 818333475X
Edition: 2nd revised and updated edition
Pages: 384
Implementation Guide for serious learners and Tally Users. Tally is for Efficient Business Management. This book is a handy practical guide about using Tally in the context of business process, management and control. The powerful features of configuration of Tally have been elaborately discussed to tune up and configure the system as per user's specific requirements. Numerous FAQs have been included to clarify the common problems that monthly the users encounter and strive to find a solution.
This book explains extensive features of Tally.ERP 9, covering the following common areas:
Basic accounts:  Basic Accounting Concepts, Company & Masters Creation, Voucher Entry, Cash & Bank Books, Journal, Ledger, Trial Balance, P L Statement & Balance Sheet, New Year Books, Data Back Up.
Traders Accounts: Customer & Supplier Profile, Sales & Purchase Vouchers, Columnar Registers, Sales/Purchase Summaries, Party Ledgers, accounts Receivables & Payables, Open Bills Statements, Age Analysis, Reminders.
Invoice & Inventory: Stock Group & Stock items, Sales, Purchase, Transfers/Stock Adjustments, Invoicing, Point of Sales, Stock Statements, Stock Ledgers, Integration of Inventory with Financial Accounts.
Table of Contents of Tally ERP 9 book
Part 1: Basic Financial Accounting
Accounting Concepts
Company Creation
Gateway of Tally
Account Master Creation
Account Vouchter entry
Report Display
Report printing
Account Masters List
Account Voucher Printing
Account Voucher Lists
Banking
Account summaries
Columnar Register
Account Books
Trial Balance
Final accounts
Year End Process
Data Maintenance
Part 2: Traders Accounting
Sales Purchase Voucher/Invoice En
Invoice Printing
Bill Registers
Columnar Bill Register
Sales & Purchase Summary
Accounts Receivables & Payables Outstanding Bills Statements
Part 3: Invoicing & Inventory
Introduction to Inventory System
Basic Inventory Masters
Inventory Voucher
Invoicing
Invoice Printing
Inventory Reports
Multi account Inventory Reports
Point of Sales
Index